The Joy of TEDx
Every day I find myself in the midst of a juggle between running a business and trying to be the best father/husband I can be. It is safe to assume many of you have a similar juggling act.
I am not complaining. Simply stating facts. There is simply not enough time in a day.
So that's what makes life funny. When something comes up that hits a nerve, suddenly you find time.
Months ago, a very interesting man named Richie Etwaru asked me a question: "Would you like to be the Chief Storyteller for a TEDx event I am organizing in Bedminster, NJ?"
Despite the life juggle I mentioned above, I did not hesitate. "Yes, it would be an honor" was my answer. No money. Though a feather in my cap there was no clear business upside. I did not initially even know what he meant by "Chief Storyteller.
So why was "yes" the gut reaction?
Mental candy. That is what immediately occurred to me. This event represented something to stimulate a part of my mind I have not stimulated enough recently. The part that explores the question "what if" without the need to answer that question. It is a mental exercise I used to enjoy so much back in my college days. When the ethereal trumped the practical. You get the picture.
I had not realized until that very moment how much I craved it. There is true value in pushing your mind past the practical. It is more than an exercise. It is where truly great ideas can be born. So "yes" was the only answer.
Months have passed since that conversation with Richie and the event is upon us. It is happening today.
I have put hours of work into helping the speakers shape their storylines into effective 15 minutes of thought-provoking wonder and awe. And I am better for it.
Mad Bear Productions, my company is now producing the videos for the event so there is new fun exercise involved in the process but none of this has to do directly with profit or business.
Richie has called it a labor of love. While that is true, I am more overcome by the mirror image. It has been a gift of indulgence. The permission to indulge in a larger picture mental exercise that is about to really happen. I'll let you know how it goes and what comes of this extraordinary experience.
---
About Glenn Zimmerman:
glenn@madbearproductions.com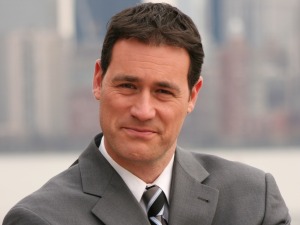 Glenn has what is best described as "Superhero Syndrome."
His affliction began as a child and has progressed with age.
He got into extreme skiing and extreme sports before they were a thing because every
superhero should try flying at least once.
While at Boston University, it was his desire to save the day that brought him to Post-
Soviet Russia where he explored the emerging homeless population.
His Syndrome brought him to journalism school at Syracuse University to get his MS in
Mass Communications. He later became an award winning reporter with the number
one station in Detroit (WXYZ-TV) and with NBC's flagship station in New York (WNBC-
TV).
And, it was the reason he formed the video agency Mad Bear Productions.
With Mad Bear, he harnesses the power of story to help business, non-profits and
events engage with their target audience. Video is his tool and he wields it mightily.
Glenn is a sought after speaker on video engagement and mass media.
It is all part of his quest to help save the day, one story at a time.