Your Story. Your Data. Your Property.
"That is amazing!"
A visceral reaction to a conversation I had about 6 months ago.
I have been friends with Richie Etwaru and Michael DePalma for years.
We've done TEDx talks and worked together on some personal ventures, but most importantly we are friends and collective fans.
There are few people I know who get my brain working faster than these two. And I always love the dialogue and intellectual stimulation.
The idea behind Hu-manity.co did not disappoint.
It is one of those ideas that strikes you over and over again in waves. With each wave adding more and more depth, simultaneously raising deeper global implications.
The question posed:
What if all people on the planet owned the data they produce as their property?
Makes sense. You own other things you produce, like your ideas, inventions, art, writings and beyond. So, why shouldn't you also own your data; especially since every day you create data from your spending habits to your medical history to your geospatial data to your energy consumption, etc…
"But hold on," I said, "no one is selling my health records, that is protected by HIPAA."
Wrong.
Richie and Michael explained, every time you have a lab test, fill a prescription, have a procedure; you are creating a new data point. And, then your health records are de-identified (name and some simple info about you as a person are removed) and the record is sold on an open market estimated to be worth about $67 Billion a year. And, that is only the market size for health records, the general data market is currently estimated between $150-200B annually.
It was then that the concept hit me like a ton of bricks. What if I had a say?
Right now, I have no control of where my records may go. What research or marketing services my records might support. And, I certainly receive no money or compensation for any of my data that is sold.
The next step is really what got my mind spinning:
What if everyone with a digital presence had this level of control? What would this new individual centric data economy mean to the world and business at large?
This video highlights the perfect partnership between Hu-manity.co and Imcon International.
That is the concept behind the #My31 movement.
People can download the app (now available for Android and iPhone) and claim their data as their property. They will even receive a digital title for their data (just like you receive a title for your car or house). Then in the app, people can decide how, where and if their data is used. These choices are recorded immutably on a blockchain which adds trust and transparency. Then once enough people sign up, the company would be able to offer businesses access to explicitly consented data which is more valuable because it can be verified to be true. Plus, if someone chooses to support cancer research (for example), it is possible to share more information than is currently provided to researchers. This way the individual would be able to claim a larger percentage of the profits while allowing pharmaceutical companies to bring cures to market faster, with less cost with drugs that do more good. Win-win!
Simply put, you've heard of Fair Trade Coffee? This is Fair Trade Data.
Now you can see what I meant, the more you think about the concept the deeper the global implications.
So why call it the #My31 Movement?
Right now, there are 30 human rights that were enacted by the United Nations in 1948. These human rights were created looking at mistakes of the past but they really do not adequately cover our digital world. Property ownership of your personal data would be human right number 31. So that is where we ended up with #My31.
So yes, I have jumped on board and have been a (Hu)-manitarian ever since. In the process, Mad Bear has signed on to become the Official Video Marketing Company of the 31st Human Right. Something I am immensely proud of…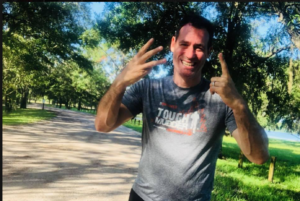 The idea has a life of its own and so far reaction to the idea has been nothing short of amazing.
I could go on to talk about IBM and other partnerships that have been developed. I could talk about the true uniqueness of the app both in design and function. I could talk about the doors that have opened like an invitation to speak at the UN Internet Governance Forum in Paris this November. And I definitely could go on to talk about what the concept could mean for the world if everyone had the ability to passively generate income through their data, let alone what this will mean going forward into future as our data sets grow exponentially.
Some people talk about data being the currency of the future and while I do not disagree with this concept, I think it falls short of the true impact of what it means and the opportunities the world is presented with once the value of data is embraced by an ever growing digital world.
One day, you could put a down payment on a house with your data or in the very least buy a set of golf clubs with it. Perhaps your data will be considered part of your estate and will be giving it to your kids because it has such value. Or perhaps the passive income generated from data could be used to fund a universal basic income and solve aspects of poverty.
I invite you to explore the concept on your own and see if it has as profound an impact on you as it has had on me.
And this is no longer just an idea I heard from my two friends Richie and Michael. It is all in the process of actually happening.
I truly believe the world is a better place if people own their data as their property.
_________________________________________________________________________
About the Author: Glenn Zimmerman
Glenn has what is best described as "Superhero Syndrome." His affliction began as a child and has progressed with age.
He got into extreme skiing and extreme sports before they were a thing because every superhero should try flying at least once.
While at Boston University, it was his desire to save the day that brought him to Post- Soviet Russia where he explored the emerging homeless population.
His Syndrome brought him to journalism school at Syracuse University to get his MS in Mass Communications. He later became an award winning reporter with the number one station in Detroit (WXYZ-TV) and with NBC's flagship station in New York (WNBC- TV).
And, it was the reason he formed the video agency Mad Bear Productions.
With Mad Bear, he harnesses the power of story to help business, non-profits and events engage with their target audience. Video is his tool and he wields it mightily.
Glenn is a sought after speaker on video engagement and mass media. It is all part of his quest to help save the day, one story at a time.