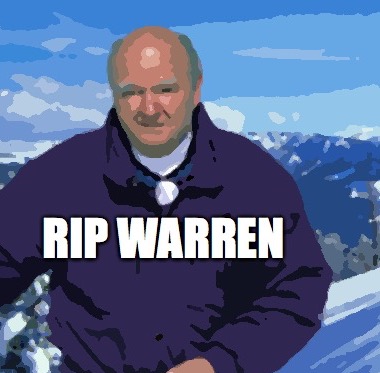 RIP Warren Miller: Admiration from a Non-Skier
RIP Warren Miller.  If you are unfamiliar with the name, for the better part of 60 years Warren Miller was a prolific peddler of snow and skiing with more joie de vivre than Larry Flint peddling pornography.

Following his release from the army in 1946 Miller set up as a film making ski bum in Sun Valley Idaho, living in a teardrop trailer in the resort parking lot. From 1949 into the new millennium,  he produced one feature length film a year about skiing. He would rent out local theaters in ski towns, often on borrowed cash, and charge admission to that year's film.

But to say Miller made films about skiing is like saying Ruben painted fat women. Much like the iconic surf movie "Endless Summer", Miller creates fantasies for fanatic skiers and punters who might never have seen snow in their life.  His other worldly images of skiers carving impossibly sexy curves into virgin slopes at 12,000 feet are complemented by his own droll narration, and musical accompaniment that is singularly definitive of the times in which these films were made.

Miller's voice brings the terrific writing and storytelling to his productions. It is equal measure poetic as it is unabashedly cornball, and always undercut with a dry wry sense of humor.  On some hand gliders he encountered:

"We wanted to include some more shots of hand gliders but they kept dying."

On tiny ski town Elko, Nevada. "Everyone in Elko wears pointed cowboy boots, I later learned this was so you could reach the cockroaches in the corners of your hotel room."

By the 80's Miller was already a legend in the ski world. He mesmerized loyal enthusiasts and casual viewers alike with bronzed figures, clad in futuristic multicolored ski suits, cavorting down faraway mountains, all goggles and golden hair backlit by the sun, splashes of color bouncing through waist deep snow.

Miller had a huge hand in popularizing back country and heli skiing, introducing his audiences to never before filmed snowscapes and the underground culture of extreme skiing and later snowboarding.  Every film was a carefree expedition into a new frozen wonderland with a group of good looking, care free daredevils.

From Aspen to Zermatt, from Mammoth to Morzine, for 50 years Miller documented the changes in the sport, from stiff long wooden ski's with primitive bindings, to todays skis that spoil their wearers with space age materials and geometric precision for all kinds of terrain.  He embraced new styles and stars. He brought Freestyle skiing, snowboarding, and extreme everything to the masses. One could argue that Warren Miller was the key contributor in bringing extreme sports to the position they occupy in mainstream culture today.

Do yourself a solid and find some of Warren Miller's classics.  It doesn't matter if you live to ski, or like me, don't ski at all.  Its a bit like watching animal planet, spectacular pictures, tried and true storylines, but the skiers are the animals.


____________________________________________________________

About Julian Williams:

As Director of Photography and co-founder of Mad Bear Productions, all things visual pass before Julian's creative and experienced eyes. He has been capturing the story as it happens from behind the lens for more than fifteen years.

Julian's ability to find the extraordinary in the seemingly mundane is his gift. As both a cameraman and editor, Julian understands the importance of shooting the right material the first time. With a developed love for telling stories and a deep appreciation for being allowed inside the worlds of thousands of people, Julian loves shooting every kind of story.

From Shuttle launches at Cape Canaveral, natural disasters, historic elections, Super Bowls, The Olympics, a World Cup to the recent royal wedding; Julian brings his global experience and understanding for the latest technologies and trends to Mad Bear's clientele.