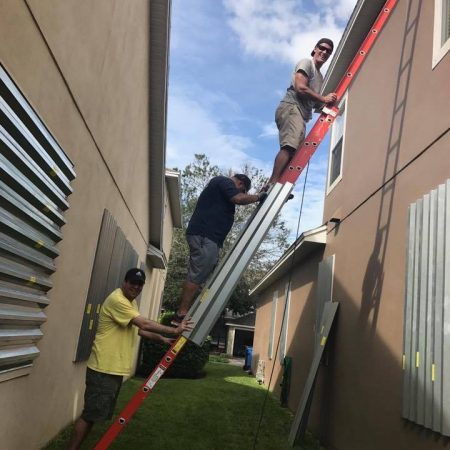 The Human Spirit: Stronger Than Any Storm
Often life passes quickly. One day becomes another and we notice very little about individual moments. Many times when something happens we take pause. We hear about a school shooting, a plane crash or a beloved actor passing. We have little to do but watch through a lens, like it's a production being played out on the big stage, and the tragedy unfolds before us. Then it's over. The curtain falls and we go back to our everyday lives.
Then all of a sudden one day YOU'RE on the stage. It's in these moments that we find out who we really are. Many of experienced this recently, with Hurricanes Harvey and Irma. I wanted to share my personal story.
I always find that in moments of chaos time slows down just enough for me to be able to contemplate things in a way I don't normally have the time for. Sounds strange, but it's true. What I learned and what I hope you take away from my story is that through tragedy there is true bonding, a need to feel connected; Even if only for a moment.
Most of the country watched, as a very angry and powerful Irma swirled around in the Atlantic. The hurricane dominated all conversations whether you were at the grocery store, gym or just getting gas. Strangers felt the need to say something about it to me. I didn't mind, made me feel like it was us verses Irma.
Once the storm's path became ominous for all of Florida, like everyone else we knew, we stocked up and took refuge in our Tampa house. Neighbors all out and about helping each other put up crazy hurricane shutters that made it look like we were preparing for the purge. We had offers for help from people we hardly knew. Irma brought out the best in many of us.
We decided to ride out the storm. But, overnight everything changed. At 5'oclock in the morning we were awakened to our doorbell. It was our neighbor with whom we have never spoken. He told us they were evacuating with their two young children and that we were welcome to go with them. They have an RV. You see, Irma moved her path directly over Tampa. So, thanks to this neighbor with whom we now have a forever bond in the wee hours of September 9th, my husband, my two kids and our French Bulldog (Chewbacca) piled into our car with only our essentials and decided to evacuate. It's crazy to how you are able to spring into action when push comes to shove. My husband and I were both overcome with gratitude to the neighbor we barely knew. It was like he became family in a split second; Funny how a hurricane can do that.
Unsure of where exactly we were headed, because quite frankly Irma wasn't sure where she was headed. We thought Jacksonville was far enough away and it's where my Mom and Dad live. Perfect. The drive was smooth. We even got gas and donuts! So far, Hannons:1 Irma: None. As we arrived in Jacksonville I felt my anxiety lift away. My children would be safe. I am a good, smart parent. I actually felt a bit smug. We continued to keep an eye on Irma and urgently invited friends to leave Tampa. No one accepted the offer. Thank God.
As I tucked the kids into bed on Sunday night, September 10th, I reassured them that everything was ok. Jacksonville was safe and we are praying for everyone in Tampa. No one knew what the morning would bring.
What ensued in the hours of the next morning is nothing short of a nightmare; At least for me and my family. What was already a night of uneasy sleep because we could hear howling wind and pounding rain. All I could think was, "everyone said Jacksonville would be ok, but this doesn't sound good." It wasn't good. The power went out overnight. At 6'clock in the morning my Dad and I started making rounds in the house. They live near the St. John's River. But, on this particular morning, they lived IN the St. John's River. It took our eyes moments to adjust to what we were seeing. Water was gushing into the house from the back. It's true what they say everything does start to move in slow motion. My son was awake and started to ask way too many questions. He was scared. It was becoming clear that if we didn't leave soon we would be trapped and we might become a lead story somewhere. The water was rising quickly in the front and there was no way to get our cars out of the garage. The brain goes into survival mode. Throw what you need in one bag. Walk through this flood water and get OUT. We could see neighbors slowly peering out and their expressions of disbelief mimicking ours.
With the help of neighbors and friends, we made it through the flood waters to safety. Everyone is alive and my kids indeed will have a story to tell. But I will say through all the feelings, the fear of harm coming to someone I love, the sadness of my immigrant parent's losing their dream home, the guilt that I lead my family into harm's way, the overriding feeling was shock in people's willingness to help us. There is something about tragedy, hardship and chaos that truly bonds people. People are good. They want to connect. They want to help. It makes them feel good. It brings me a lot of hope and sheds a lot of light on some of the darkest moments. The light continues to shine as I receive updates on all the help my parents are receiving as they try to build their life again. There you have it. Tragedy, not even Irma, can dampen the human spirit.
_____________________________________________________________________________________________________________________________
About the Author: Roshni Hannon
Contact: roshni@madbearproductions.com
Her name means "light" and that is what she is… high energy, bright and fast. And yes… she does run regularly. While we're not sure what she is running from (perhaps her two young kids) we know she's covered a ton of ground. She was the Executive Producer for an award winning and number one rated morning show in Tampa for years. And now, she uses her unique blend of organization, storytelling and curiosity to help Mad Bear clients find their stories. Think of her as an architect, a story architect.