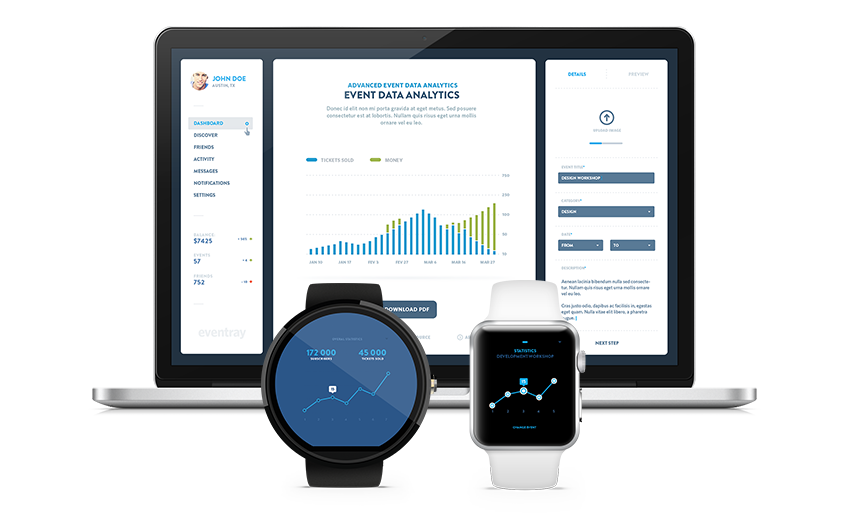 How long should my video be?
Look to the left. Now to the right. Are you alone? No one has to know the answer to this question. This is a moment of truth. How many times in a day do you check your smartphone? How many times while you're reading this blog do you think you'll have a quick glance at your email inbox.
News flash: attention spans are shrinking!
That much we know. But, before making any determination on length you have to consider your audience. Where do they live?
Your answer impacts which platform you should use to share the video. The answer really is don't just create one video at a fixed length. In this multi-channel world, it is very ambitious and bold to ask a lone video (regardless of length) to do everything. To maximize performance, vary the length of the same concept. What you put on Instagram will not be the same content you share during a live event.
With all that said you've got to learn to crawl before you walk. In essence, in order to break the rules you have to learn them first.  So here are the basics when it comes to length.
Go Shorty…
Remember when we mentioned those short attention spans? Let's get back to that. To cater to viewers' fleeting attention advertisers now film snackable, six-second versions of their 15- or 30-second ads.
Six seconds?! Yes. This is a very viable length right now. But remember, the video does not have to do everything… it just needs to get the attention you desire and cause the viewer to want more.
The overwhelming majority of videos we create are less than two minutes in length. Our team embraces the shrinking attention spans and shifting audience expectations, and we are always advising our clients on how to adjust their content to match.
We find that when it comes to product videos, some demos, and explainer videos, the shorter and more succinct the better.
1. Explainer Videos
In essence, an explainer video is one which provides an overview of a problem and demonstrates how your product or service provides a solution.
As these are generally quite top-of-funnel, meaning you are likely engaging your audience for the first time to get their attention and get them wanting more,  it's best to keep them concise.
Recommended Length: 60 seconds or less
We produced a high-level infographic to explain what Hu-manity.co stands for.       

A deep and sophisticated philosophy does not have to be difficult to demonstrate with video.
2. Product Videos/ Sizzle Videos
If you think of the explainer video as the "what." Then your product/ sizzle video is the "why." These videos let your viewers experience your product or solution.
And at this stage, it's okay to go a little longer. At this point, you'll have piqued their interest!
Recommended Length: One to two minutes 
A product video doesn't have to be something tangible. It can be a concept or an event. We produced Visit Tampa Bay's Sales/Sizzle video as a tool for them to attract more meetings and large scale conventions to the area.
3. Webinars
Webinars are great opportunities to delve deep into subjects of interest to your audience.
With webinars, you also have a lot of flexibility on video length. It all depends on what you're presenting and how you want to present it.
Recommended Length: 15 minutes plus Q&A
4. Social Videos
What better way to connect with your audience than through their favorite social channels?
The rising popularity of IGTV is the world's way of recognizing people are watching less TV and consuming more digital content. Instagram TV allows creators to upload high quality, long-form videos. It allows users to create channels where they can upload videos between 15 seconds and 10 minutes long.
IGTV is in fact the exception and not the norm (for now). In general, short and sweet videos are perfect for engaging with your audience on social.
And while it's important to keep tweaking your video approach as social needs are always changing, here's what's working well right now.
Instagram stories can be longer, but they go away. And remember money talks. If you put money behind your push on Instagram and Facebook the rules are different. Posts can be longer. So below are for those of you going it without the added push.
Recommended Lengths:
Instagram: 15-30 seconds
Twitter: 15-60 seconds
LinkedIn: 15 seconds-tw0 minutes
Facebook: 15 seconds-two minutes
Video Pitches
Are you pitching a reporter or maybe you're producing a sales pitch?
If you think six seconds is short, consider that your email pitch may be competing against 799 other email pitches.
As professionals who have lived on the other side of the pitch, we recommend keeping pitches short and sweet.
You can check out more on video-pitching here.
Recommended Length: 30-45 seconds
Long-form Content isn't Dead
Now with all that said, we are NOT swearing off long-form content. It comes down to your goal and many times the platform. Webinars, certain event videos (like our example below) and many product demos can be 3 minutes and more. The bigger questions are: How well do you know your audience and can you meet them there?
We created a longer-form video for Habitat for Humanity based on what we knew about the audience and the circumstances under which they would be watching. 
In a nutshell, even though short content performs well, consumers also seem to have an appetite for in-depth educational content.
Remember, time is money. But don't sell your story short.  Hit reply and tell us if you think this article was helpful.
______________________________________________________________
About the Author: Roshni Hannon
Contact: roshni@madbearproductions.com
Her name means "light" and that is what she is… high energy, bright and fast. And yes… she does run regularly. While we're not sure what she is running from (perhaps her two young kids) we know she's covered a ton of ground. She was the Executive Producer for an award winning and number one rated morning show in Tampa for years. And now, she uses her unique blend of organization, storytelling and curiosity to help Mad Bear clients find their stories. Think of her as an architect, a story architect.