Through a Child's Eye
"You're a kid. What do you know?" Maybe you haven't said it, but you've thought it. The other afternoon I was walking the dog with my 4 year old daughter. As we tried to make our way down the sidewalk I kicked a piece of plastic that was sure to go in my French bulldog's mouth, to the side. My 4 year old scolded me. "Mommy! What are you doing?!" I gave her that confused, startled but annoyed look you would give any child who yells at you. I told her why I kicked this precious piece of plastic into the grass as I watched her wander over to it and to my horror pick it up. She explained to me, hands akimbo, that this disgusting, germ-infested neon green piece of plastic was NOT garbage. This was in fact a piece of a Ninja Turtle spaceship that had broken off.
She insisted on bringing this thing home so we could wash it off and assemble it into a vessel for 4 large, talking, karate-kicking turtles. I've learned to pick my battles. The plastic came home. It was washed and after hours of assembling, gluing, complaining and cursing it turned into TMNT Spaceship.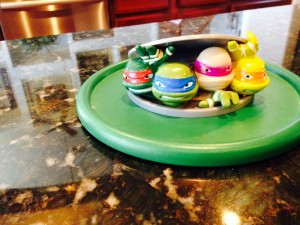 It has become her favorite toy. Something so small, dirty and insignificant became the source of complete awesomeness to a 4 year old. Don't discredit the mundane. The rarest gems are the ones that just need a little dusting off.
---
About the Author: Roshni Hannon
Contact: roshni@madbearproductions.com
Her name means "light" and that is what she is… high energy, bright and fast. And yes… she does run regularly. While we're not sure what she is running from (perhaps her two young kids) we know she's covered a ton of ground. She was the Executive Producer for an award winning and number one rated morning show in Tampa for years. And now, she uses her unique blend of organization, storytelling and curiosity to help Mad Bear clients find their stories. Think of her as an architect, a story architect.