The Quiet Man (Jeff Henderson)
Mad Bear co-founder Julian Williams was in Rio for the Olympics. This was his 4th Summer Games. After spending some time with gold medalist Jeff Henderson, he wrote this article.
---
A slim figure is bent over at the waist, feet together, a slight bend in his knees, sinewy muscular arms hanging low, fingers twitching over the indigo strip beneath him. He taps the surface thrice, tap tap tap, with his right foot and extends it backward, straightening at the waist beyond upright, leaning backward now at a 65 degree angle, while drawing his right arm across his chest; his left leg is extended straight in front him,  left heel on the surface, his toe extended in the air exposing glinting spikes protruding out of the hot pink soles of his Nikes.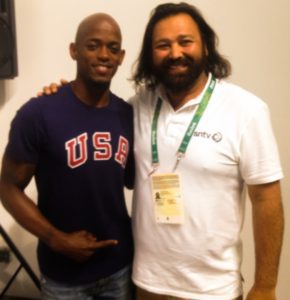 Taut, still,  his eyes burning into the middle distance,  in one motion, he leans forward, his left toe rocks down, his right knee explodes forward, with calculated choppy steps he accelerates, chop chop chop chop, building speed, 20 yards, chopchopchopchopchop, at forty yards, upright, knees like pistons, elbows pumping, spikes a blur, still building speed,  50 yards full throttle, approaching 25mph, at 60 yards, top end, a long stride, wham! His left foot slams into the white wooden board embedded in the runway, the spikes grip, in a fraction of a second his hamstring contracts, body compresses low, and uncoils as he explodes off the surface into the air and and soars, arms forward, legs flailing, flashes of pink and white and blue.
McAlmont, Arkansas,  'MacSide', occupies almost three square miles smack dab in the middle of the state.  Population 2,000, Median house price $71,000.  Jeff Henderson attended nearby Sylvan High in Sherwood, where he starred in track and football.  Despite his speed, he received no Division 1 scholarship offers and only partial Division II scholarships.  Unable to pay for college for more than a year at a time he used partial scholarships to jump from one school to another finally landing up at Stillman College. It was here at a national indoor meet, bouncing between the 60m sprint and long jump, that he caught the eye of Al Joyner, himself a former gold medal winner in the triple jump.  Joyner offered him the chance to travel with him to California and train at the USOC facility in Chula Vista, CA.  There was just one problem; Henderson had no money, not even enough to buy a plane ticket to California.
Joyner saw enough in the young man to take care of the flight and put him up in a hotel for two weeks. Henderson recalls leaving with all his worldly possessions in two duffel bags, including two pair of Nikes. After that two week session, Henderson returned home to Arkansas, where Joyner would text him workouts.  His local high school had no proper track, so he conducted his workouts on the macadam "running track."  He would travel to meets and  compete, living on a shoestring, with whatever help his father could provide.
He spent the next year back and forth between Arkansas and the USOC facility in Chula Vista, living in the dorms paid for by the USOC, his expenses  handled thanks to the benevolence of his coaches who believed in his talent.  In 2015 he had made the US team, where he represented the United States at the World Championships in Beijing.  He finished in 9th despite having the longest jump in qualifying competition.  He was despondent.  The depression turned to anger.  He swore he would win his next meet.
The next international meet was the Olympics.  Following the U.S. trials in Houston, which he won, Al Joyner gave Henderson his gold medal telling him to return with two.  Henderson returned the medal before he left for Rio, assuring Joyner he would return with one of his own.
In yet another unlikely twist of fate, during one of those visits to California, he met a photographer who introduced him to an agent friend who was looking for a track man with a background in football.  That meeting resulted in workouts with a wide receiver coach in whatever time was left over after track workouts,  which in turn led to a workout with  the Kansas City Chiefs.  They have asked him to join them training camp when he returns from pursuing his Olympic dream.
The flailing legs brace for landing as 175 lbs of desire descends into olympic sand,  his rear barely scraping the surface, bounding up and out of the pit, more antelope than human, bursting with adrenaline, sprinting across the midfield all the way to the far end of the track, he stares at the board…8.38 meters. 27 1/2 feet.  That's your Chevy Tahoe bumper-to-bumper with a Mini Cooper. Better yet, that's a gold medal. By one centimeter. That's this far: (  ).  His hand raised in triumph he breaks into a sprint, 175lbs of blue lycra clad joy streaking across the matching blue midfield.
When Jeff Henderson returns to his innocuous apartment complex in Southern California, few will know the gold medal winner next door; he won't tell them.  He doesn't want people to know. He will return with medal for Al Joyner, this one all his.  He will place the medal in his mother's hands who will not recognize him for she is in the last phases of Alzheimer's.  He will join the Kansas City Chiefs, where he will be the fastest thing on a football field Kansas City has ever seen.
He's not done.  He promises he will be back at the World Championships in London, and plans to defend his title in Tokyo in 2020.  So if you missed the quiet man in the kerfuffle surrounding swimmers, and gymnasts and mosquitoes, you have a another chance to catch Jeff Henderson on the long runway leading to glory, because no one is going to catch him on the football field.
---
About the Author
Julian Williams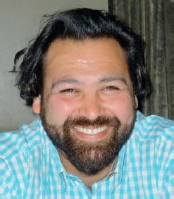 As Director of Photography and co-founder of Mad Bear Productions, all things visual pass before Julian's creative and experienced eyes. He has been capturing the story as it happens from behind the lens for more than fifteen years.
Julian's ability to find the extraordinary in the seemingly mundane is his gift. As both a cameraman and editor, Julian understands the importance of shooting the right material the first time. With a developed love for telling stories and a deep appreciation for being allowed inside the worlds of thousands of people, Julian loves shooting every kind of story.
From Shuttle launches at Cape Canaveral, natural disasters, historic elections, Super Bowls, The Olympics, a World Cup to a royal wedding across the pond; Julian brings his global experience and understanding for the latest technologies and trends to Mad Bear's clientele.